born in San Sebastián, Spain, is one of the first Spanish artists to do performance art and one of the first Spanish women artists to receive international recognition and has received several important prizes. She received the national fine arts prize in Spain (1999), the Marie Claire prize in France. In 1966 she joined Walter Marchetti and Juan Hidalgo in the Spanish performance art group Zaj, famous for its radical and conceptual performances, whose controversial "concerts" were presented in Spanish concert halls despite the censorship of Franco's regime. Zaj also performed in many other countries for 30 years, until 1996, when the group broke up after a retrospective in the Reina Sofia Museum in Madrid.
As a performer she has participated in festivals in Canada, Korea, the United States and Japan, and throughout Europe (France, Italy, Holland Belgium, Bulgaria, Switzerland, England, the Czech Republic, Poland, Denmark, Norway, Slovakia, Germany and Hungary). Her production also includes objects, photos, video pieces, visual systems based on prime numbers, and a large collection of self-portraits in many media.
Ferrer represented Spain in the Venice Biennale in 1999, and did large individual shows in subsequent years in the FRAC Bretagne (Rennes, France), MACVAL (Val de Marne, France), and with the Instituto Cervantes in several South American cities.
venue: Centrum Sztuki Wspolczesnej Zamek Ujazdowski
date: 8th May 2008
program: Interakcje – International Performance Art Festival
Camera and edited by Sakiko Yamaoka  IPAMIA
International Art Festival, Interakcje, the most active performance art festival in Poland, is held every year in the provincial city of Piotrkow Trybunalski. In 2008, it was specially held at the Museum of Contemporary Art in Warsaw, where some of the most important artists in Europe were invited. The Museum was originally a castle built in the 13th century. Since the 18th century it was used as a military barracks and hospital. Esther did this performance in the beautiful courtyard, with its symbolic octagonal shaped glass in the middle patio. She often intersperses her work with nonsense plastic poems. On this occasion, she wrote something on some small pieces of paper and stuck it on the ground. Unfortunately, we could not record what she wrote.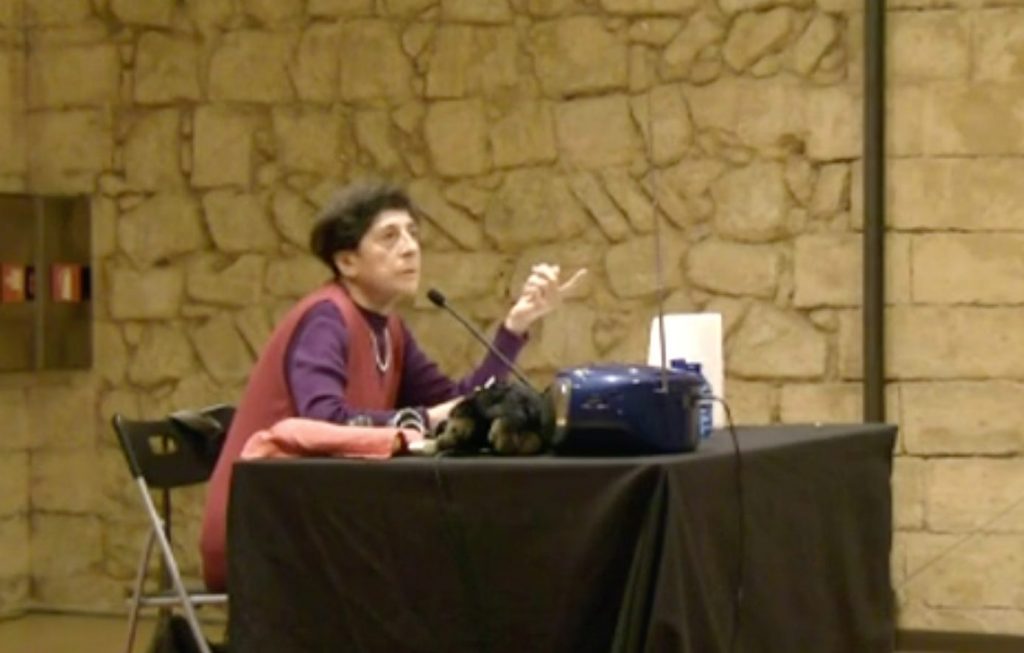 https://vimeo.com/esbaluard/httpwwwesbaluardorgenactivitats301el-arte-de-la-perform
title: El arte de la perfprmance: teoria y practica
date:26 July 2012
venue and project :Es Baluard Museu d'Art contemporani de palma, spain  https://www.esbaluard.org/en/
A performance that is a lecture, or a lecture that is a performance, a theory that becomes practice, or a practice that becomes theory. The real, the imaginary, the logical, the absurd, the obvious and the not so obvious, a particular way to perform when speaking about performance.
"Some may think she says nothing,
others may think she says too much,
may think she says enough and
may think she says not enough,
may think she says just what is
necessary.
Some may think she does nothing,
others may think she does too much,
may think she does enough,
may think she does not enough
may think she does just what is
necessary."
Actually, she speaks and she does, and that's it.
(Esther Ferrer)