Jerzy Bereś was a sculptor and author of happenings, born in 1930 in Nowy Sącz. he used his body as one of the fundamental elements of his creative material. He died on 25th December, 2012 in Kraków.
The war broke out when he was nine years old and the shock he experienced due to the invasion of Poland was to cast a shadow over the rest of his life. He studied sculpture with Xawery Dunikowski at Academy of Fine Arts in Krakow from 1950 to 1956. Though his student days coincided with the period of the worst excesses of Stalinist regime, Dunikowski's class was for protecting students from communist indoctrination.  His early sculptures were made of plaster, and concrete, but soon he moved to wood, gradually changing the character of his works. They were characterized by simplicity, derived from the nature of the material. In 1960 he started the cycle of sculptures called Phantoms, in 1967 – Oracles . Apart from wood the artist used stones, raw  linen, hemp strings, leather straps and paint. His first individual exhibition was held in 1962 in Krakow being invited by  Grupa Krakowska, the  art group that took an important role to keep a contact with European art for Polish artists at a time of strict political isolation. In the second half  of 1960's the element of movement came to  be important in his work. He started to show works in which  audiences expected to move a piece of work to make political message appear. In 1968 he presented his first artistic manifestation  Oracle I at the Foksal Gallery. In his manifestations he performed naked, using fundamental materials; wood, stone, fire, glasses, vodka, wood, linen, plain fabric, paper, paint. The subject of the performance was a political and ethical issue implying the democratization of Poland. In such a situation that censorship intensified, this exhibition was closed down. In the 1970s, He formulated an original concept of prophetic art in which artists who carefully observe social and political change can be  mediums to manifest the future states. 

date : 1st October 2004
title : My Road to Euro 01.10.2004
venue: Maschinenhaus Essen, Germany
project : Long Atem (Long Breathes)
orgnized by E.P.I.Zentrum (Boris Nieslony)
camera & edit by Sakiko Yamaoka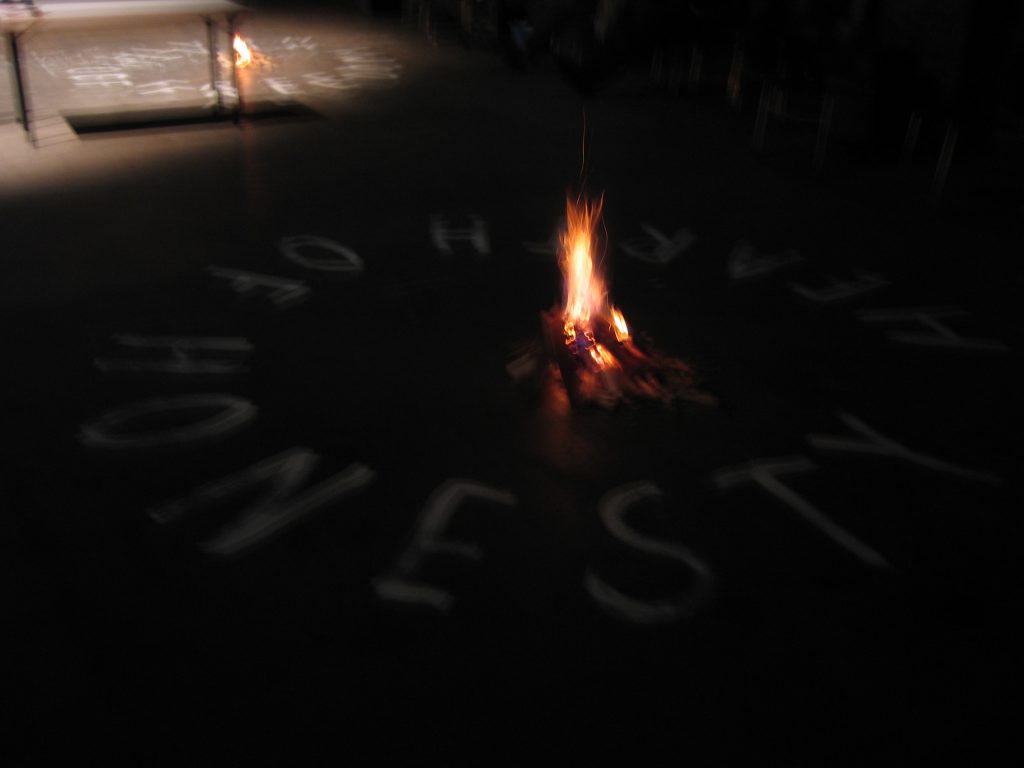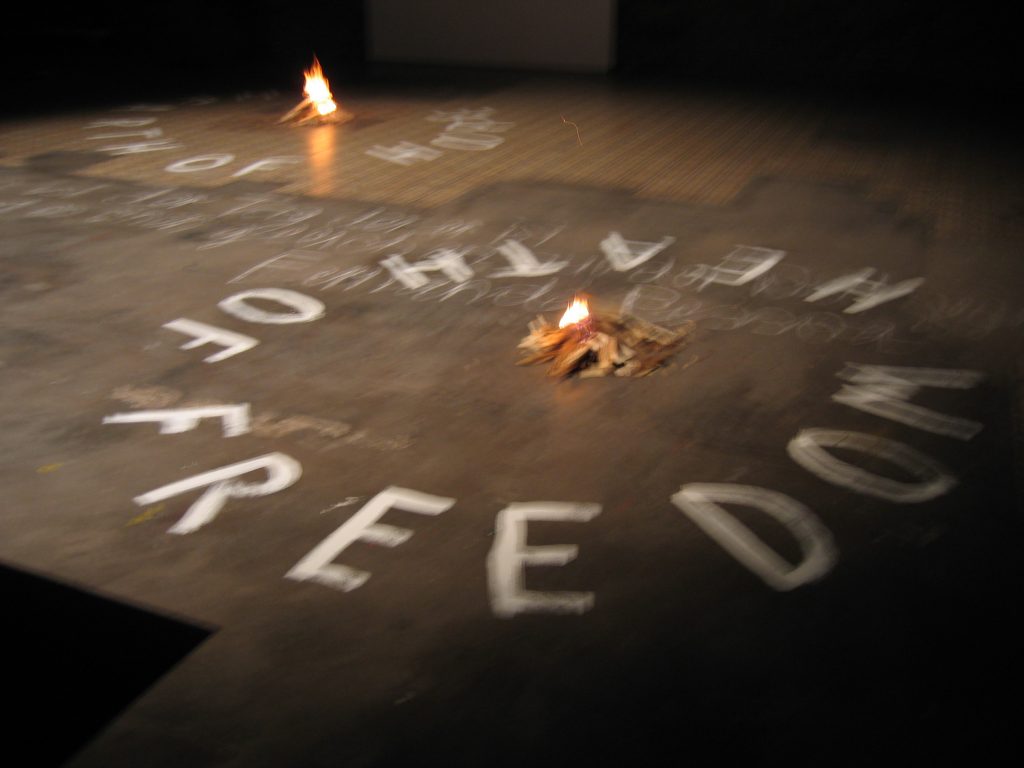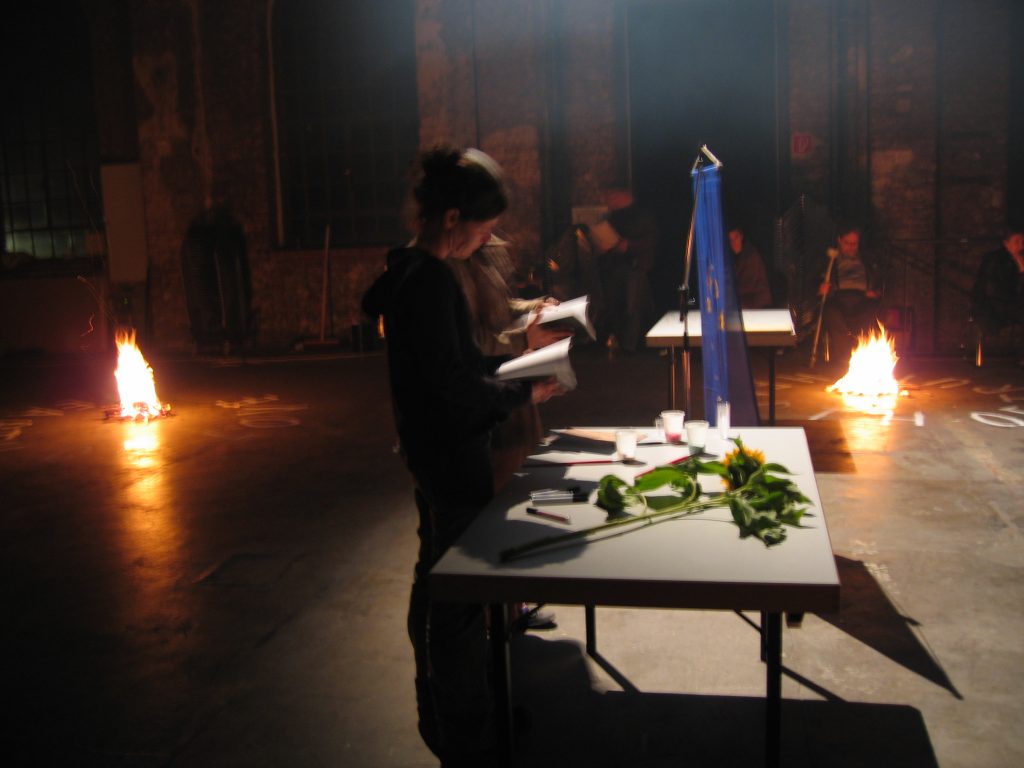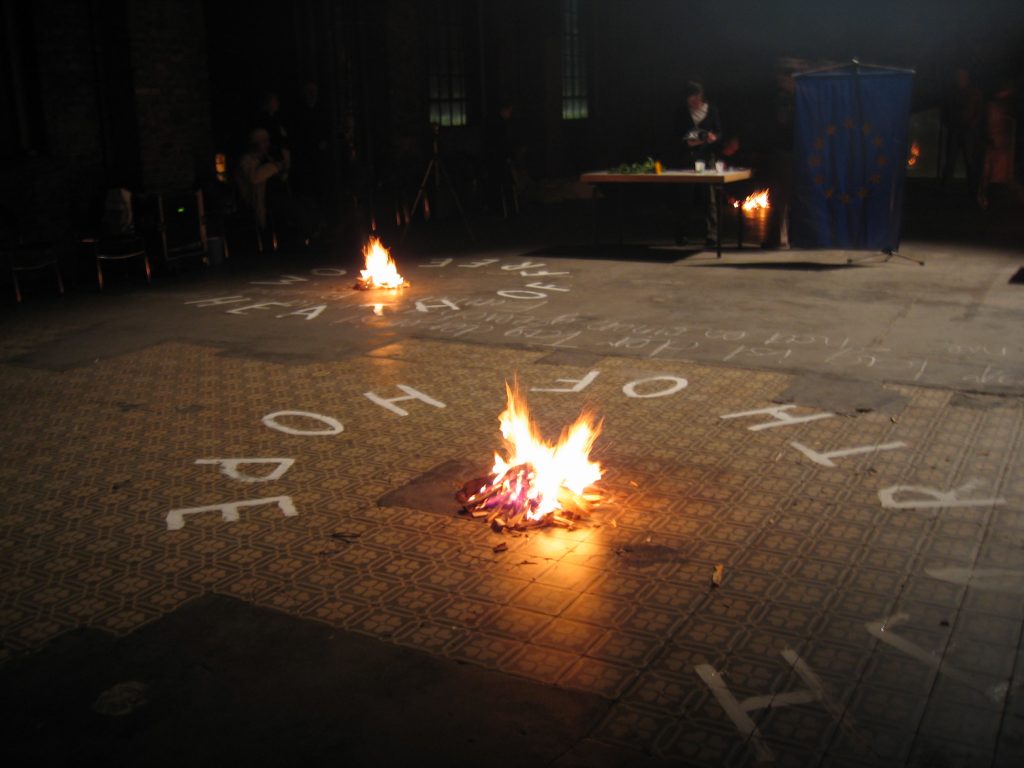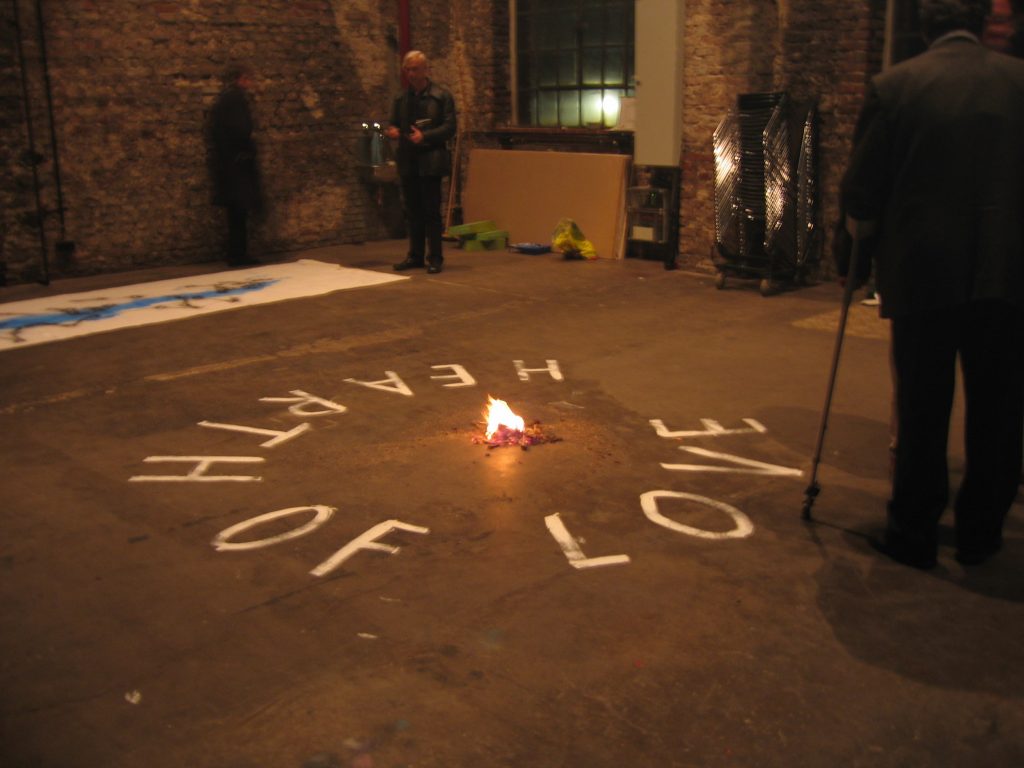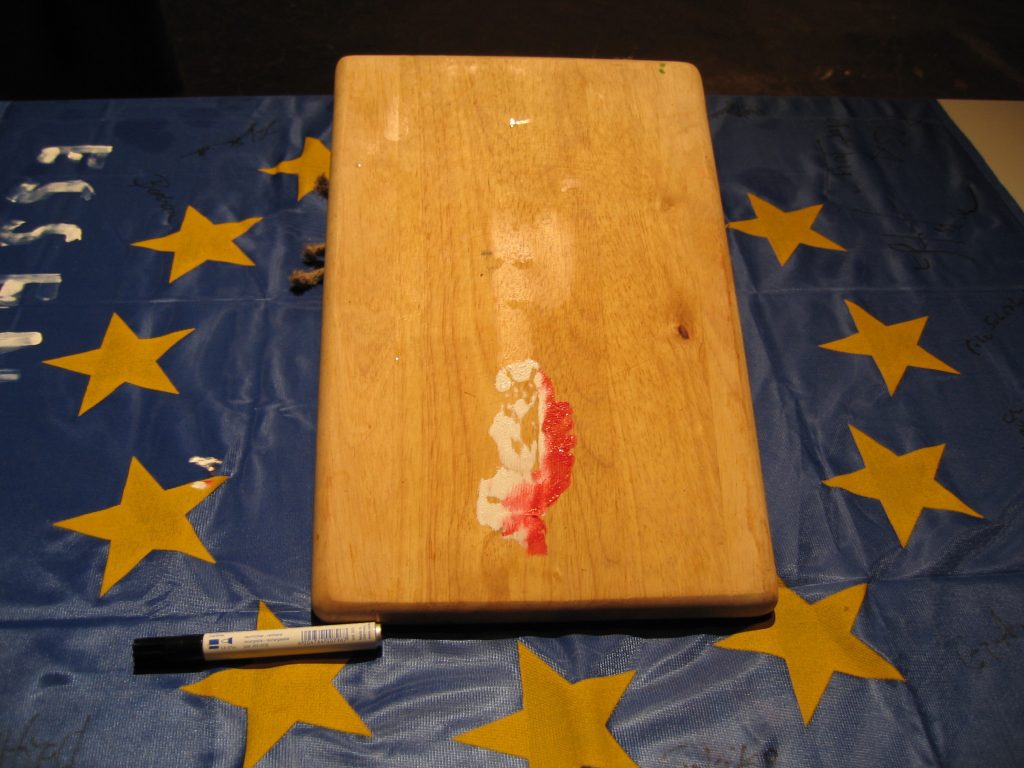 The words on the floor, he wrote in the performance : HEARTH OF LOVE, HEARTH OF HOPE, HEARTH OF FREEDOM, HEARTH OF TRUTH, HEARTH OF HONESTY 
Critics for his permance works  (Following text is refered from Culture.PL )
Bereś's art has always met with a lively reception from the art critics. They emphasised the specifics of language used by him, the provocative courage to display nudity, engagement in the prevalent problems of reality.
Jerzy Hanusek wrote: 'Bereś' actions and manifestations move the imagination. However, his goal is not merely to move the imagination, but to provide that movement with a specific direction', 'Bereś performs nude, sometimes covered by boards tied around his hips or a piece of canvas used during manifestations. The artist's nudity fulfils a formal, pragmatic, and semantic function. It is first of all an attempt at harmonising the means of wood's own presence, which it lacks in its original, natural state. Bereś uses his body in the same way as wooden blocks and fire. […] Bereś' nudity is not erotic in its nature […]. It is, among others, a manifestation of openness, trust, sincerity, helplessness. […] The artist knows that in his projects, he referred to values which in the contemporary world, saturated with cynicism and pragmatism, become shameful values, exposed to mockery, contempt, and ridicule. […] The artist penetrating these particular areas of cognition, where the intellect turns out to be the enemy of wisdom, pays a high price for his audacity: the borderline between the position of a prophet and of a pitiful victim becomes incredibly thin. The artist not only makes an offering, but also consents to play the role of a sacrifice. It is a price which cannot be avoided.
Ewa Gorządek stressed:The artist's nudity is something as natural and primal as wood or fire, which Bereś uses in his art. Body is sometimes objectified – the artist paints on it like a painter on a canvas, writes keywords for actions on it, calls it a 'live monument,' then again he presents it as a subject, e.g. in Altars, Masses, and Transformations, he bestows a magical, metaphorical meaning upon it, sacrifices it at ritualistic altars. 
Andrzej Kostołowski said, in turn:Morality and politics are notions which are often represented in Bereś's art. They represent an anti-totalitarian and patriotic attitude, a constant in his life. This participatory stance also led to works for the St. Joseph and Our Lady of Fátima Church in Tarnów: side altars – of the Holy Family and Sacred Heart of Jesus (realised in 1964 in collaboration with his wife, Maria Pinińska-Bereś), the Crucifixion group at the Chapel devoted to the Victims of Concentration Camps – comprising a figure of Christ on the cross, Virgin Mary, and a full-figure portrait of Father Maximilian Kolbe in the church (1969). This stance also prompted the artist to join the independent culture movement. He showed his works at big church exhibitions, as well as at the show summing up the 1980s titled What is an Artist When Times are Hard?, which took place at Zachęta in Warsaw (1990/91).  
Jerzy Bereś represented Poland at the 9th São Paulo Art Biennial (1967/68). In Poland, he mainly cooperated with the Krzysztofory Gallery (he was the first sculptor accepted by the Kraków Group, and since 1966, he was also its member), Labirynt Gallery in Lublin (later also with the Bureau for Art Exhibitions) and with Foksal Gallery. His works were also featured in the major thematic exhibitions Romanticism and the Romantic in 19th and 20th Century Polish Art (1975/76) and The Self-portrait of Poles (1979/80).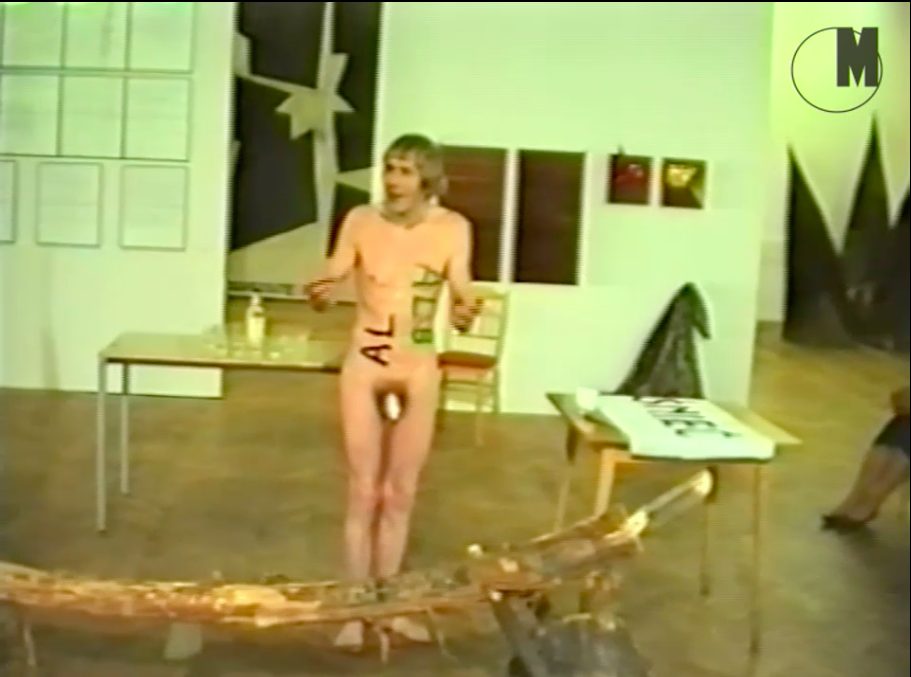 title: Challenge II: Roller of Judgement. Masterpiece/Trash
Year: 1994
venue:BWA Gallery in Lublin
Duration: 19'44"
Language: Polish
Source: VHS
© Galeria Labirynt, Jerzy Hanusek
⬇︎ Click the following web site
Performance Jerzego Beresia w Galerii BWA w Lublinie, w którym artysta posłużył …
artmuseum.pl
(Quate from the website)
Performance by Jerzy Bereś at the BWA Gallery in Lublin, in which the artist used a sculpture of his own making, The Roller of Judgement. The work engages with the topic of contemporary art and poses the question about the possibility of judging contemporary art works.
Jadwiga Rożek-Sieraczyńska describes the artist's performance: "The Roller of Judgement functioned as a kind of moving vehicle, a quasi-wheelbarrow made of a rolling tree trunk fixed to a long drawbar. The title of the sculpture was painted on a piece of canvas attached to the vehicle akin to a banner. The words written on both sides on the floor read: 'masterpiece' and 'trash.' During the performance, the artist created an inscription on his own body which referred to those two words: 'or, or(ALBO, ALBO).' As if to confirm the previously articulated necessity of judgement, when the action came to an end Bereś addressed the viewers directly to solicit their opinions about what they had just seen."
Quoted from: Jadwiga Rożek-Sieraczyńska, Jerzy Bereś – Rycerz wiary, "Didaskalia", no. 92/93, 2009.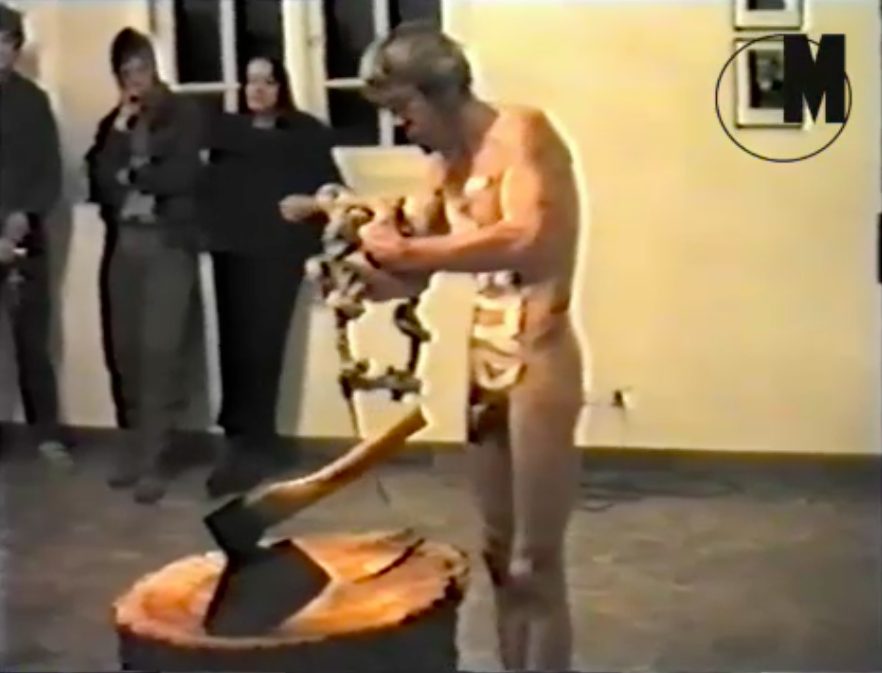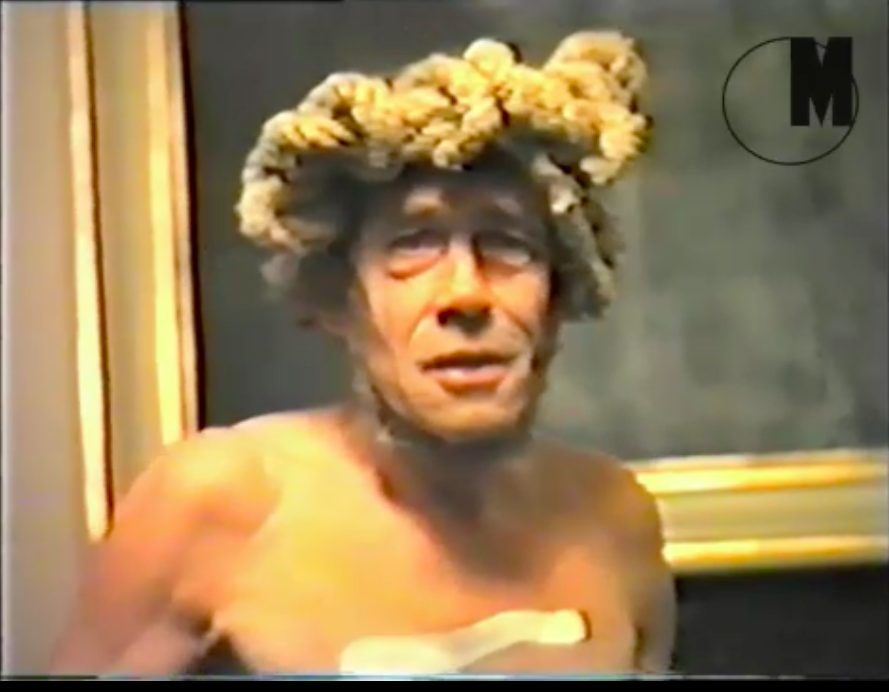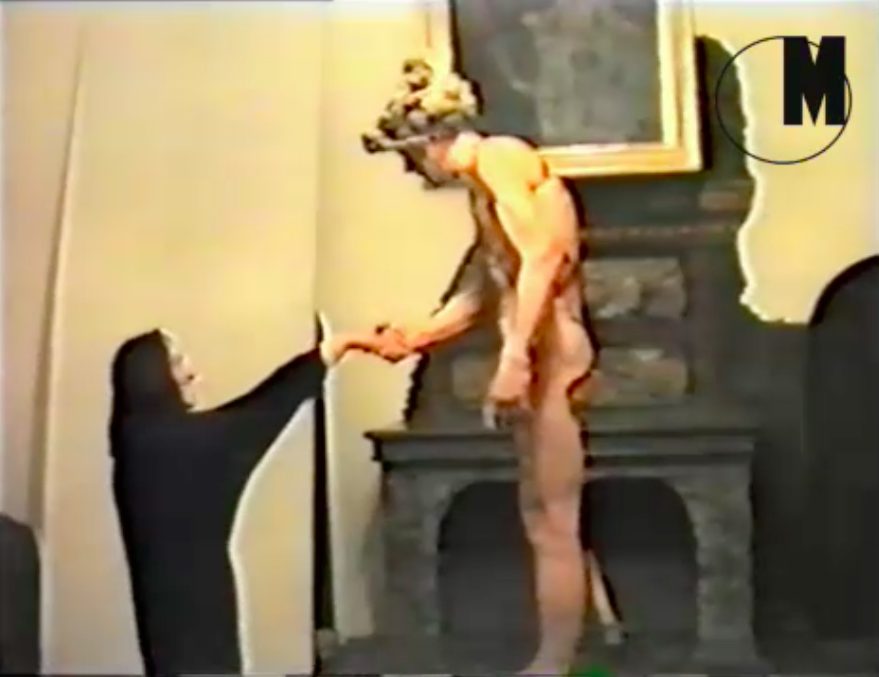 title :Shame
venue:Centre of Polish Sculpture in Orońsko
Year: 1989
Duration: 3'06"
Language: Polish
In his action, Bereś pursued a reflection on his own artistic practice, the question of transgressing the limits of form and the fluidity of borders in art. The artist's nudity does not bear an erotic character. It performs a semantic function, manifesting honesty and trust. The body is treated in a primitive and natural way, akin to wood or fire, which Bereś uses in his works. The subject – the artist – consciously reduces himself to the role of an object. Through a seeming negation of his own liberty and rejection of his own subjectivity, the subject acquires a sense of freedom and the possibility to decide upon himself. In his actions, Bereś reproduces the same situation time and time again, turning his performance into neck-breaking séances of working through the trauma of enslavement. He persistently assumes the role of a slave in order to set himself free. The constant return to the beginning does not offer a solution, yet it is not the effect that matters, but the process that leads to "liberation."
The title of the action bears reference to Bereś's reflection on the idea of shame. In the artist's view, the same shame that bears testimony to the loss of subjectivity is something that defines his humanity.
⬇︎ Click the following web site
Muzeum Sztuki Nowoczesnej w Warszawie jest państwową instytucją kultury założoną…
artmuseum.pl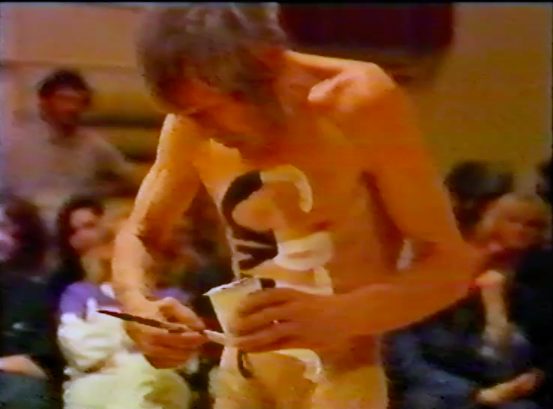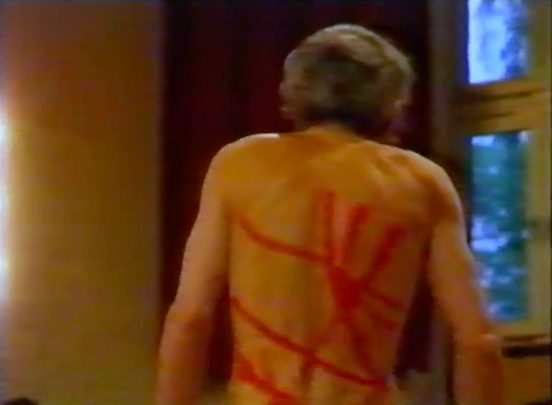 title : Third dispute with Marcel Duchamp
date: 24April 1990
venue: the Laboratory Hall of the Centre for Contemporary Art Ujazdowski Castle, Warsaw
Jerzy Bereś's performance "Third dispute with Marcel Duchamp", which took place in the Laboratory Hall of the Centre for Contemporary Art Ujazdowski Castle. It was one of several performances in which the artist engages in a discourse with leading 20th century artists. The artist's performance initiated a discussion in which Zbigniew Warpechowski, Elżbieta Kępińska and Andrzej Mitan take the floor.
⬇︎ Click the following web site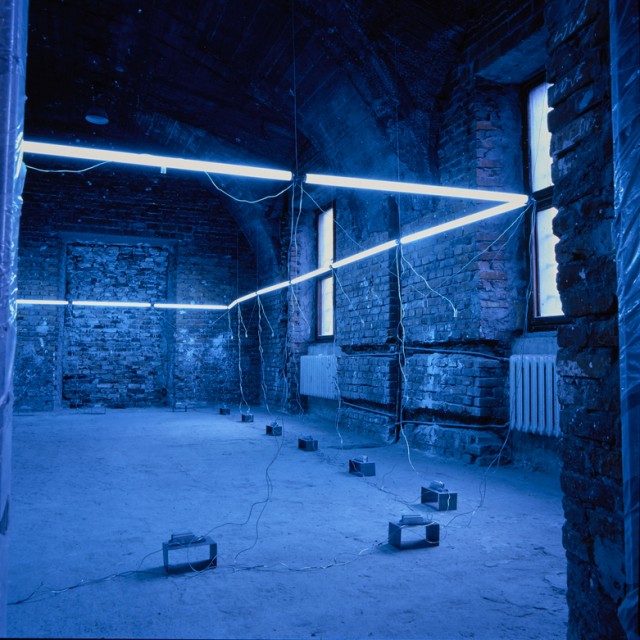 Cyfrowe archiwum U–jazdowskiego
mediateka.u-jazdowski.pl
Jerzy Bereś performed three perfomances as disputes with famous artists from the history of 20th century art: with Stanisław Ignacy Witkiewicz (1991), Tadeusz Kantor (1991) and with Marcel Duchamp (1981, 1988, 1990). The film shows the performance "The Third Dispute with Marcel Duchamp" (1990).
During this performance, Bereś wrote the word "sin" on his body. Then he recalled that once Marcel Duchamp said, "I will throw the bottle and they will consider it is a work of art." Bereś said – "I believe that Duchamp sinned in this way, because he made himself irresponsible for his act. I'm not going to make a work of art out of this bottle "[broke the bottle at that moment]. Later, Bereś said that what Duchamp said was related to the general problem of fetishization. Unfortunately, this problem also applies to performance artists. What can you do in such a situation? Let the viewers start a discussion about how they evaluate what he (Bereś) has done. What will be their ethical evaluation of the performance performed by Bereś. Then the discussion began. (the text by Grzegorz Borkowski)